Friends of Lower Farm PTA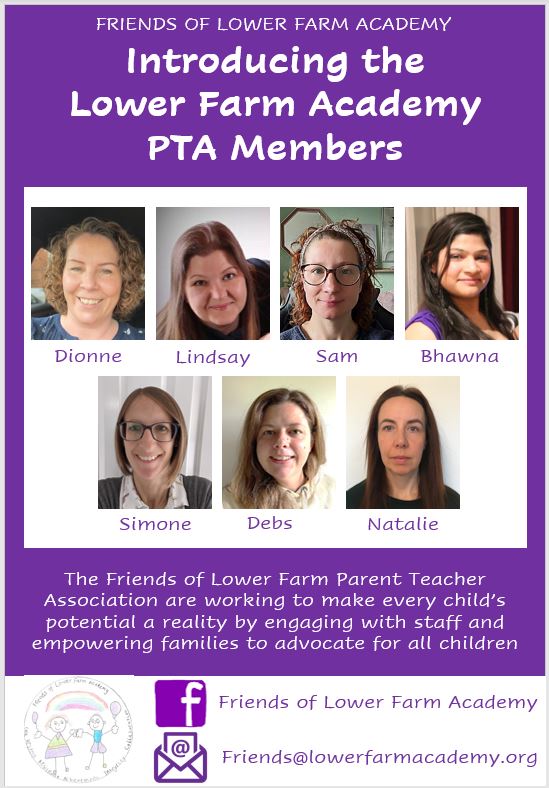 We would like to take this opportunity to welcome you to Lower Farm Academy, introduce you to the PTA and let you know how you can get involved in supporting all the children throughout their primary school experience.
The committee is made up of parents with support from the school governors and teachers. Although the primary aim is to raise funds we also hope to provide fun, social events for children and their parents as well as involving the local community more widely.
Our annual calendar of events has been refined over the last few years and now consists of the below;
Autumn Term;
Halloween Disco, Nativity, Christmas Fayre.
Spring Term;
Friendship Disco, Mother's Day, Easter Bingo.
Summer Term;
Father's Day, Summer Fayre, End of Year Disco.
The PTA is supported by a parents and carers 'Helping Hands' group, who support some of our events both in preparations and on the day. Members could be asked to man a stall, engage with local businesses, reach out to employers for donations/fund matching, etc.
How can you help?
The PTA is run by a committee of volunteers and we always need new committee members to help organise and run events and to come up with new ideas. We meet once or twice a term to plan and arrange future events. The meetings are fairly informal and can be a good way to get to know other parents. We also need willing helpers for events. We are always looking for new members, if you are interested in joining the PTA please contact us by emailing: [email protected]